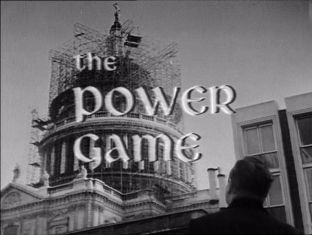 Barbara Murray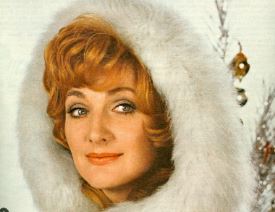 "An enticing presence, all misty eyes and pale beauty...her beauty seemed to strengthen in middle age, as did the regality that placed her firmly as a woman of a certain era, but there was a delicious mischievousness in her grand voice which ensured there was always more to the characters she played than just elegance and sophistication." Simon Farquhar - May 2014 - The Independent
Barbara Murray was born in London on 27 September 1929, the daughter of variety artistes Freddie and Petronella Murray. Educated at a boarding school, she briefly joined her parents act and worked as a photographic model before, at the age of 17, auditioning for a 5-year contract with the Rank Charm School. Formally known as The Company of Youth, it was an attempt by the Rank Organisation to a develop a star system similar to the Hollywood Studios. Students were trained in performance, while also appearing at publicity events and premieres. Barbara was given small developmental roles in three or four films (including the 1948 version of Anna Karenina ), but while helping out with screen tests for Kind Hearts and Coronets, she impressed director Robert Hamer. He ran off a separate screen test which led to her being cast as Stanley Holloway's daughter in Passport To Pimlico (1949).
To gain experience she joined the Newcastle Playhouse repertory company in the same year before being cast in a steady series of supporting roles in second-string movies such as Boys in Brown (1950) and The Dark Man(1951). In March 1950, Barbara was lent out to the BBC Home Service to appear with Basil Radford and Naunton Wayne (who had appeared as civil servants in Passport to Pimlico)as the copyright busting Fanshawe and Fothergill in the six part comedy thriller That's My Baby. On 25 December 1950, Barbara was lent out (billed as, by permission of the Rank organisation to appear in the BBC television production of Dominic Roche's stage adaptation of A Christmas Carol. Starring 80-year-old actor-manager Bransby Williams as Scrooge, and John Bentley as the younger Scrooge, the hour-long play was shown at 9pm on Christmas Day and shown again at 5pm on December 27th. Barbara played young Scrooge's fiance, who he neglects for commerce (a foretaste of her fate in The Power Game).
A year later, she was lent out again to play the title role in We Must Kill Toni (Tuesday 11 December 1951), a comedy by Ian Stuart Black, set in the ancestral home of the Oberon Family. In the same year Barbara had appeared in Rank's Another Man's Poison (1951), an adaptation of Leslie Sands play Deadlock , starring Bette Davis and her husband Gary Merrill (more details here ). She also appeared as Woman Police Constable Lucy Loggart in Street Corner (1953). This was ahead of its time - an ensemble piece written and directed by Muriel Box about the work of women police constables when they were still supposed to look after missing children and shoplifters. The cast includes Peggy Cummins, Thora Hird, Dora Bryan Terence Morgan and Harold Lang and you can read more about it here)
In 1952, she had married actor John Justin (The Sound Barrier), who she had met while working on the film Hot Ice. Realising that they would never have any time together if they were both filming, Barbara turned down the offer of a renewed contract with Rank, so that she could spend more time at home. However, she had no intention of giving up her work to be a housewife and in 1954, shortly before the birth of her first daughter she starred as Joanna Winter in No Other Verdict at the Duchess Theatre.
On Sunday 2 October 1955, Barbara Murray played the Dark Lady in a Sunday Night Theatre (BBC 1) production of George Bernard Shaw's 1910 play The Dark Lady of the Sonnets. Written as part of the campaign to establish a "Shakespeare National Theatre", it shows Shakespeare (Alan MacNaughtan) lurking in Whitehall Palace for a late night assignation with the Dark Lady. Through a misunderstanding, Shakespeare encounters Queen Elizabeth (Beatrix Lehmann) and he asks her to create a national theatre, where he can write the plays he wants to write, rather than the plays the public want to see. The play was followed at 9pm by part two of a transmission from the Shakespeare Memorial Theatre of The Merry Wives of Windsor, in which Patrick Wymark made his TV debut as the Host of the Garter Inn. A significant Shakespearan night . In rehearsal for the play, Barbara told the Radio Times that she preferred TV as it allowed her to spend more time with her family, but that this would be her last performance before the birth of her second daughter in the Spring.
And it was just over a year later that Barbara Murray returned on 21 October 1956, in another Sunday Night Theatre. Written by Philip Mackie, A Death in the Family starred Stanley Baker as film star Richard Eynesham, Michael Gough and his brother, Jack May as his agent and Barbara Murray as his ex-wife Stella. The play was "not so much a Who-Dun-It as a Who-Dun-What"? with Stella dead, but nobody sure of the cause.
Barbara was reunited with Stanley Baker in Canadian oil-prospecting adventure,Campbell's Kingdom. Dirk Bogarde was the star, and he and Barbara had both appeared in Doctor at Large, a comedy producer Ralph Thomas had been prevailed upon to make by Rank due to a financial crisis in the British film industry. Having delivered a crowd-pleasing comedy, Thomas was given the finace he needed to make his Canadian epic (filmed in Italy). From 3 December 1957 to 14 February 1959 she co-starred with Ian Carmichael, playing Isolde and Augie Poole in Joseph Fields and Peter De Vries playThe Tunnel of Love. Directed by Robert Morley, the comedy dealt with the disruption to the marriage of an American couple when they submit to investigation by the Rockabye Adoption Agency. An investigator (Dilys Laye) is sent to assess the prospective parents but ends up sleeping with Augie.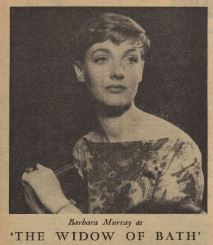 On 1 June 1959 Barbara Murray found a change of pace as a film noir-ish femme fatale in The Wife of Bath, a six part serial adapted by Margot Bennett from her 1952 novel. Set in a small seaside town it also starred John Justin as Hugh Everton, a damaged man in a menial job who now saw a chance to gain revenge on those who had wrecked his life and career. Barbara Murray played Lucy Bath, "who glitters like a diamond and is almost as hard.". Produced by Gerard Glaister, the series is now believed lost.
She continued in TV roles throughout 1960 (including the Danger Man episode The Sisters with Mai Zetterling). In November 1961, she had an even greater change of pace when she accepted the lead in Thomas Clarke's five part serial The Escape of R.D.7. Produced and directed by James Omerod, the serial dealt with virus Barbara's character had developed to wipe out rats. You can read more at this page
At the same time as she was terrifying BBC audiences, Barbara completed a role for ABC on 3 December 1961, opposite Richard Briers in an Armchair Theatre adaptation of Robert Sheckley's 'The Seventh Victim' titled Murder Club. The story is set in a future where like-minded parties can agree to take part in man-or-woman-hunts. Produced by Irene Shubik, the success of this episode convinced ABC to produce the anthology series, Out Of This World. Shubik later continued the science fiction theme at the BBC with Out Of The Unknown.
In 1962 Barbara Murray played Stella in Harold Pinter's The Collection, directed by Peter Hall for the Royal Shakespeare Company. John Ronane, the only holdover from Pinter's 1961 Rediffusion TV version, plays a young dress designer at the centre of intrigue between Stella, her jealous husband (Kenneth Haigh) and Ronane's flatmate played by Michael Hordern. The play ends with Stella silently refusing to confirm or deny her husband's accusations, giving him a look of friendly ambiguity Following the success of The Collection, Barbara travelled to Broadway for the premiere of Leslie Weiner's comedy In the Counting House, directed by Arthur Penn. Starring Sydney Chaplin, Howard Da Silva and Kay Medford, the play ran for only four perfomances, closing on December 15 1962. Barbara played an English secretary at a lingerie firm who Chaplin falls in love with. Since his Father-In-Law has a big stake in the firm, Chaplin's character knows leaving his wife would cause disaster. One reviewer found Barbara's performance intelligent and sympathetic, but it really didn't matter because the play was dead in the water.
On 19 February 1963, Barbara appeared in the ITV Play of the Week, The Cruel Deadline playing reporter Celia Raeburn, who becomes emotionally involved with Ann Bulmer (Georgina Ward), the daughter of an MP caught up in a scandal (Ironically - or not - Georgina Ward was the daughter of a former Government minister). Barbara also also appeared opposite Tony Hancock in The Punch and Judy Man (April 1963) and in two episodes of The Saint. On March 5th 1963, Barbara opened at the Savoy Theatre in Trap for A Lonely Man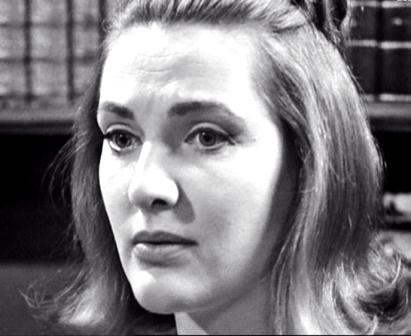 More significantly, Barbara was sent the script of The Plane Makers episode Too Much To Lose . If she agreed to play John Wilder's wife in this first episode of the second series, they offered to write the character into two more scripts (A Question of Sources and Don't Stick Your Head Out. After that it was clear that, as she herself said, " the chemistry worked". Script editor Wilfred Greatorex noted that, "Men adore her...but women aren't jealous..some of them become equally entranced by the way she plays the part.". However, it's notable that Barbara only appears in seven of the 29 episodes of the second series. Barbara herself was critical of the female characters, and did her best to influence the later scripts, saying they were written"By men, for men, and the women weren't real. Weren't complete."
Barbara Murray's personal life underwent a massive change in March 1964 when her marriage to John Justin was dissolved. Although the grounds were cited as Justin's infidelity with two women (one named, the other un-named), "the Judge exercised discretion over (Miss Murray's) admitted adultery." She promptly married actor Bill Holmes, who gave up acting to become a teacher. Together they set up home in a top floor flat in Queens Gardens, Kensington with Barbara's three daughters. She told reporters that theirs was a marriage of equals. She taught him how to cook so that they could share the meals."At first he wasn't interested, but now he enjoys cooking." When she was exhausted after working on a TV series, he looked after her, but, "when it is getting towards the end of school term and he is worn out, I look after him.". One (male) reporter took this division of labour of an indication of Barrbara's "sweet but tough" nature, substantiating it with Bill Holmes assessment that, "Barbara is a very gentle, sweet person, but she's full of vitality."
Very much a mythbuster, Barbara met reporters in casual clothes that "Pamela Wilder would never wear.". Telling them she was 'pear shaped', she said she was not interested in high fashion but was "designing clothes for herself and other 'pears'. They're slick clothes but...very practical.". She also said that, "Even before the £50 travel allowance* she spent her holidays on the English Coast instead of the Cote d'Azur." She also said she hated parties and the London scene. "All I want from marriage is to be loved, to have fun at home."
The third series of The Plane Makers began in October 1964 with Pamela Wilder played by Ann Firbank. Producer Rex Firkin said in his autobiography that this was because he neglected to book Barbara until she was already committed to the BBC's The Indian Tales of Rudyard Kipling (July -Dec 1964) , where she played Mrs Hauksbee. Whatever the reason, Firkin made sure that Barbara was signed up for the first series of The Power Game (13 December 1965).
In a 1969 interview, script editor Wilfred Greatorex admitted that Barbara had a strong input into the way Pamela Wilder was written. "Barbara suggested that we add a sense of humour and that a woman like Pamela would want to improve her existence instead of sticking in her shell. The result was marvellous. And she played the part with such subtlety, that it has been an eye opener for me about how to write a woman's part."*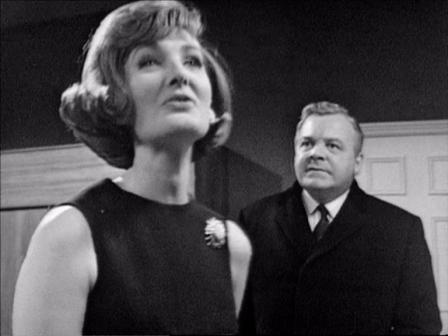 The second series of The Power Game came to an end in December 1966, and in February 1967, Barbara began a long run in the stage thriller Wait Until Dark until October 1967.
In 1968, she appeared in a supporting role in the thriller A Dandy In Aspic, and also played Caesonia in the 2 November 1968 episode of Philip Mackie's The Caesars, with Ralph Bates as her husband Caligula. After this, a return to the Wilder household was like a walk in the park and the third series of The Power Game began transmission in January 1969.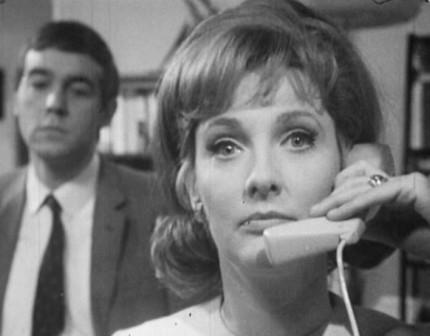 Following the end of the third series of The Power Game, Barbara Murray seemed to become ITV's one-woman-task-force for rescuing stricken comedies. On 20 December 1969 TV Times heralded the second series of London Weekend comedy Never A Cross Wordtelling viewers that, "stepping into the role of scatter-brained Deirdre Baldock is Power Game girl Barbara Murray opposite Paul Daneman (Nyree Dawn Porter had played Deirdre in the first 1968 series). Jack Watling, from The Power Game guest starred as an alcoholic friend of the Baldock's in the 17 January 1970 episode, On The Rocks. Barbara then took on the role of Victoria from Zena Walker opposite Alfred Marks in the second series of Yorkshire TV's Victorian comedy, Albert and Victoria (not the, Albert and Victoria, it should be stressed). The comedy pinch-hitting continued in April 1972, when she took over the role of Kay Sherwin, opposite Ronald Lewis in the Yorkshire Tv comedy His and Hers* (Sue Lloyd had played Kay in the 1970 series).
Unfortunately, personal tragedy intervened in July 1971 during rehearsals for the third episode of Albert and Victoria when she lost her second baby in eight months in July 1971. This meant that Frances Bennett took on the role of Victoria, with Barbara Murray's episodes screened on 13 August 1971 and 20 August, with Frances Bennett taking over for the remaining four episodes from 27 August. Barbara Murray discussed the sad loss of the child in the TV Times publicising the seconf episode, hoping to play down the melodrama of earlier press reports. She told Stewart Knowles that she didn't really want to work while pregnant but, "I only discovered I was going to have a baby a couple of days before we started Albert and Victoria and I didn't want to let everybody down.".
Anxious to get back to work, she guest starred in the 11 October 1971 episode of The Rivals of Sherlock Holmes. Playing Lady Wiltshire in the Duchess of Wiltshire's Diamonds, she was one of the few non-detectives to appear in the title credits. The episode starred Roy Dotrice as the mysterious "Klimo"/aka Simon Carne (she and Dotrice would be reunited in Tales From The Crypt).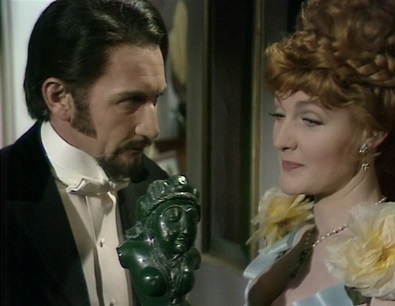 Roy Dotrice as Simon Carne and Barbara Murray as Lady Wiltshire
At the end of 1971, Barbara Murray made the front cover of the Christmas TV Times for her starring role in Terence Feely's play Who Killed Santa Claus?. She played Barbara Love, a TV star who, just before her Christmas party is threatened by a voice on the then-novel medium of a telephone answering machine and then receives a miniature coffin. As the guests for her party arrive, the question is which one has a reason to kill her. Broadcast on Boxing Day 1971, the Anglia TV play had overtones of Brian Clemens Thriller (for which Feely often wrote) and is still a favourite among amateur dramatic societies.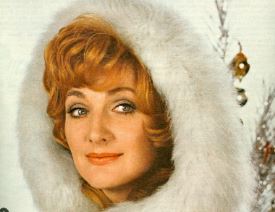 In the same year Tales From The Crypt was released. In the segment Wish You Were Here, Barbara plays the wife of bankrupt businessman Richard Greene, who tries to use magic to rescue his fortunes. Roy Dotrice co-stars as the friend and solicitor of the couple. The segment has overtones of The Power Game in the relationship between the married couple and intriguingly, the secetary is played (not be Norma Ronald) but by Jayne Sofiano (who played Pat Henderson in one episode of The Power Game, before going on to play Dr Ginny Vickers in its rival The Troubleshooters.
In April 1972, Barbara starred as Kay Sherwin in His and Hers. As the TV Times put it, "Barbara Murray, one of the three wives of Alfred Marks in Albert and Victoria, is the second wife of Ronald Lewis in the return of this series about a stay-at-home husband and his executive wife/"
Barbara Murray continued with stage and TV roles throughout the 1970's and 1980's starring in the 1974 BBC series The Pallisers, and ITV's theatrical saga The Bretts (1987-1989). She also made guest appearances in Robin's Nest (1979-1980) as Tony Britton's ex-wife, Eric Sykes' 1977 Yorkshire TV adaptation of Charley's Aunt as Donna Lucia, and Doctor Who in the equally farcical Black Orchid (1982). Barbara looks stunning in this 1920's story - which is the best that can be said for an adventure so bad that it is best watched with the commentary turned on so you can hear the star tell you how bad the script is.
Barbara Murray retired to Spain in 2000.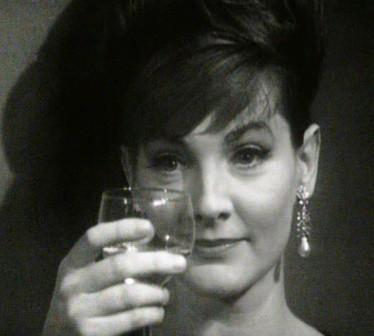 *Quotes come from Peter Genower "Lady Wilder - Queen of Ten Million Hearts" TV Times March 15 1969 and Stphen Vizinczey, "Barbara Murray, Gorgeous, tender, Tough" and Eileen Anderson The Journal 14 April 1969 "Lady Wilder, the Charmer Every Woman Would Like To Be."
*In the economic crisis of 1966, the cash economy allowed a £50 limit (just under a thousand pounds in 2020 currency) to be set on cash or travellers cheques taken out of the country because there was a balance of payments deficit (British holidaymakers spent more abroad than foreign holidaymakers spent in Britain).