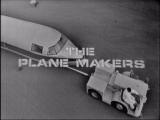 28 October 1963
Any More For The Skylark. Writer Peter Draper. Director James Ferman.
"You can feel their breath on the back of your neck already." John Wilder.
After the boardroom farce of "The Old Boy Network" the series dives towards shop floor comedy with Peter Draper's first script for the series. Draper had worked in an advertising agency so there may be some background knowledge in Rodney Bewes role as a public relations clerk dumped with the job of filling the seats on the Sovereign's first long distance trial flight. Passengers are needed to provide weight and it's a tradition that factory staff are used. This flight is going to the South of France, so as Don Henderson (Jack Watling) says, whoever gets the job of allocating the seats is , "extremely popular one minute and loathed by everyone the next."
Once again, Henderson plays an extremely small part in the proceedings as he immediately delegates the job to "that little twerp in public relations". Henderson's briefing to Fletley (Peter Myers) is condescending and probably not best practice, but it is instructional to hear Fleltley parroting repeating Henderson's witticisms when he in turn dumps the job on Bewes. It illustrates just how differently two actors can deliver the same words (producer Rex Firkin recalled in "High Drama – My Life In Television" that as an actor he had seen Watling being "delightful and funny" in The Winslow Boy and was thrilled to play the same part. It was only when he read the script that he realised, "it wasn't funny at all. It was Jack's skill that had made it funny.")
Although Draper's script covers a range of workers vying for the free flight, the heart of the episode is Bewes' tentative romance with secretary Isobel Black (who would go on to star in the Mystery And Imagination adaptation of The Jewel of the Seven Stars). Bewes tells her, "All I've got is a television set and a copy of the Kama Sutra. I can't promise to love you as long as I live, but I'll love you very much as long as I can." The romance is threatened by slimey manager John Woodvine, who intends to ensure both he and Black will be sharing the flight to France. Victor Maddern plays an electrician conniving to get a seat on the test flight with the help of Barbara Windsor (coming off the final series of The Rag Trade) paying a paint shop sprayer whose true vocation is as an exotic dancer.
Like Henderson, John Wilder has very little screen time inn this episode. When he does appear in the story it serves to create some last minute conflict. Wilder decides to use the flight as a publicity exercise and fill itwith journalists. Bewes is told to cancel the lottery, but screws up his courage and confronts Wilder in his office. Bewes says cancelling the traditional workers flight is " a bad decision for the morale of the company" (Jack Watling in the background chokes on his drink at the coming storm)
Wilder says "It's a ridiculous tradition" and Bewes persists "But it's a tradition."
Wilder promises to think about it and when they're alone asks Henderson how old the PR man is. Henderson tells him he's 22. "You can feel their breath on the back of your neck already, " Wilder says, "Keep an eye on him."
It's hard to guess how audiences would have responded to this episode. With "The Plane Makers" making the transition from anthology series to continuing drama, this feels very much like an episode intended for the first series. It seems to have been standard to include at least one "funny" episode as a "change of pace", but whether it was more fun for the programme makers than the viewers now tuned into the running saga of Wilder is debateable.