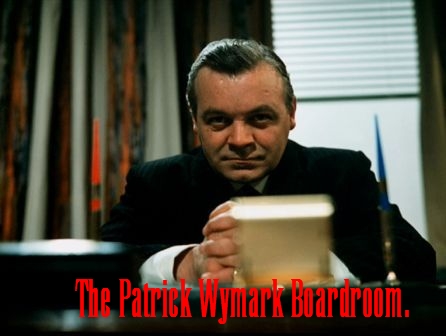 "Another Man's Poison" : The Stratford-upon-Avon Poetry Festival 30 June 1963
In June 1963, Patrick Wymark appeared with Fenella Fielding at the Stratford Poetry Festival (many thanks to Simon McKay of the Fenella Fielding Foundation ( www.fenellafielding.com) for unearthing details including the exclusive photo below from Fenella Fielding's archive of Patrick Wymark at Hall's Place).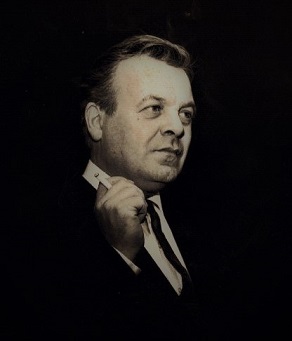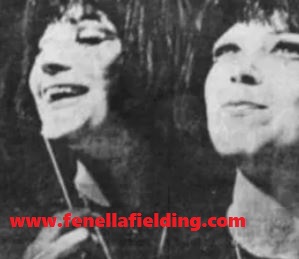 The Stratford-upon-Avon Poetry Festival has been running since 1954, initiated by the Trustees and Guardians of Shakespeare's Birthplace. In 1960, Peter Hall had invited actor Patrick Garland (a former president of the Oxford University Poetry Society) to direct the festival. Garland later said that through the festival, "I learnt to edit, to contrast, to juxtapose. I never liked reverential poetry." Garland would go on to create John Aubrey's Brief Lives, the record-breaking one-man show starring Roy Dotrice and direct The Snow Goose for BBC1 starring Richard Harris and Jenny Agutter.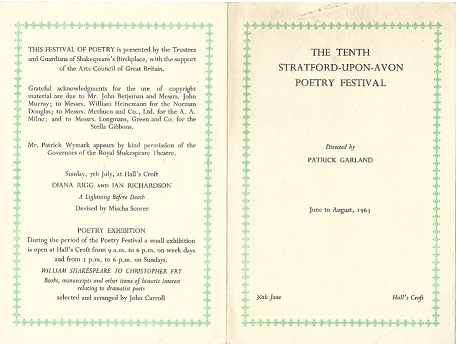 The Tenth Stratford Poetry Festival ran from 30 June to 25th of August 1963. The Festival closed with, The Rebel, a selection of poetry about "the man who says No", which was later performed by the Royal Shakespeare Company. Other subjects included Stevie Smith, Patric Dickinson, a Memorial Reading of poetry by Christopher Hassall (father of the actress Imogen Hassall), Exiles and Grandmother's Big Teeth! Performers included Margaret Rutherford, Kenneth Haigh, Diana Rigg, Margaretta Scott, Barbara Jefford and Ian Richardson.
Patrick Wymark and Fenella Fielding opened the festival at Halls Croft (the home of Shakespeare's daughter Susannah, and her husband Dr John hall) on 30 June 1963 with Another Man's Poison, a collection of prose and poems on the subject of food.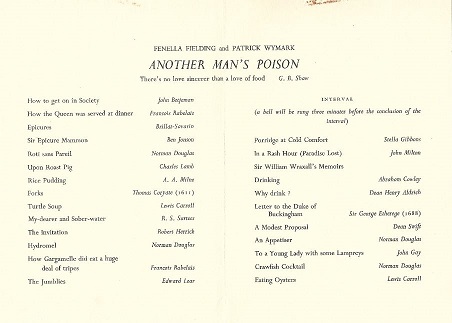 Among the readings were;
Epicures by Jean Athelme Brillat-Savarin, author of The Physiology of Taste, who is credited with saying, "To know how to eat and drink with discernment is a gift known only to epicures with a refined taste. He argued that, "Good living opens out great resources for replenishing the public purse: it brings contributions to town dues, to the custom- house and other indirect contributions. Everything we eat is taxed, and there is no exchequer that is not sufficiently supported by lovers of good living. One can imagine that Patrick Wymark made a great delivery of Brillat-Savarin's description of Epicurianism; " There is a privileged class of persons who are summoned to the enjoyments of taste by a physical and organic predisposition...Those predisposed to epicurism are for the most part of middling height. they are broad-faced, and have bright eyes, small forehead, short nose, fleshy lips and rounded chin...It is under such an exterior that we must look for agreeable guests. They accept all that is offered to them, eat without hurry and taste with discrimination. They never make any haste to get away from houses where they have been well treated, but stay for the evening, because they know all the games and other after-dinner amusements."
How To Get On In Society by Sir John Betjeman, lampooning the aspirational middle class, "Now here is the fork for your pastries, and do use the couch for your feet, I know what I wanted to ask you, is trifle sufficient for sweet?"
Roti Sans Pareil by Norman Douglas (author of the scandalous 1917 novel South Wind), describing an 18th century French recipe which begins with an olive stuffed inside a warbler and stuffs 17 birds inside each other, ending with a turkey.
A Modest Proposal by Jonathan Swift, a satire on the hard hearted which proposes that the poor stop their children becoming a burden on society by selling them as food to the rich. "A young healthy child well-nursed,is, at a year old, a most delicious, nourishing and wholesome food..."
The Invitation by lyric poet Robert Herrick - "At last i' th' noon of winter, did appear, A ragg'd soused neats-foot, with sick vinegar; And in a burnish'd flagonet, stood by, Beer small as comfort, dead as charity."
And Address to a Young Lady with some Lampreys by John Gay, "For when I see you (without joking), Your eyes, lips, breasts, are so provoking, They set my heart more cock-a-hoop, Than could whole seas of craw-fish soupe."
The programme also included a speech by Ben Jonson's Sir Epicure Mammon from The Alchemist, a description of Porridge at Stella Gibbons' Cold Comfort Farm and Edward Lear's The Jumblies, returning from their voyage in a sieve with A pound of rice, some cranberry tart..and forty bottles of Ring-Bo-Ree, And no end of Stilton cheese."