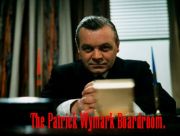 Radio, Spoken Word, Personal Appearances
There will be some overlaps in this section - does a voiceover actually belong in film or TV? What if a personal appearance is captured on film (as in Tell Me Lies)? This section brings together voiceovers, personal appearances, radio productions and spoken word (records). For the latter, you can find a comprehensive overview of the Argo Records Shakespeare adaptations at John Owen's blog. If that whets your appetite to find out more about Argo Records, a niche marketeer before the term had been invented, you can read more on Folkcatalogue's Blog.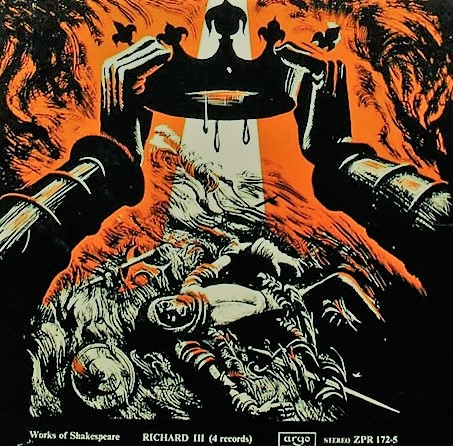 Patrick Wymark's radio appearances cover BBC Radio's transition from the Light Programme, Third Programme and Home Service to Radio 2, Radio 3 and Radio 4.
1951 The Barrow Poets Patrick Wymark joined fellow graduates of University College, London in performing poetry at South bank pubs sponsored by the Brewers' Federation. The Barrow Poets continued (without Wymark) up until the 1980's and also recorded with Argo records. More on The Barrow Poets, here.
1953 Murder in the Cathedral (LP) Full cast recording of the 1953 Old Vic production. Patrick Wymark as Third Priest.
Friday 3 May 1957 'California Here I Come' (BBC Home Service) Play by Olwen and Patrick Wymark from the Midlands studio. Written while Patrick was waiting to start his next season with the Shakespeare Memorial Theatre, it dramatised their experiences trying to get a visa for their baby daughter Jane, prior to their stay in California. Olwen later said, "We nearly separated for life. I don't think husband-wife collaboration is a very good idea in this field!" (repeated 1 July 1958)
Friday 6 September 1957 Conference on Shakespeare and the Actor, Stratford-On-Avon. Patrick Wymark was one of the actors from the Shakespeare Memorial Theatre answering questions about the relationship between the actor and the audience.
Friday 26 December 1958 The Shakespeare Memorial Theatre Company in ' TWELFTH NIGHT' (BBC Third Programme)by William Shakespeare. Dorothy Tutin, Geraldine McEwan, Patrick Wymark, Richard Johnson. Directed by Peter Hall. Produced for radio by Peter Dews. (Repeated Wednesday 14 January 1959)
1958. Antony and Cleopatra (LP) Patrick Wymark (Enobarbus), Richard Johnson (Antony), Irene Worth (Cleopatra). (Argo UK)
Tuesday 8 December 1959 They Met On Good Friday (BBC Third Programme) by Louis MacNeice. Dramatises the Battle of Clontarf in 1014 AD, when 5000 Irish warriors opposed a combined force of 4000 Leinster men and 3000 Vikings. Earl Sigurd (Patrick Wymark) King Brian (Patrick Magee); Music and specially devised sounds by Tristram Cary.(Repeated 8 January 1960, 31 May 1960,).
1960 The Tempest (LP) Patrick Wymark as Caliban, Michael Horden as Prospero. (Argo UK)
1960The Wind in the Willows LP (Argo) Narrated by Patrick Wymark with Norman Shelley as Toad, Richard Goolden as Mole, Frank Church as Rat, Tony Church as Badger. For more information, go to this page
Friday 21 April 1961 Woyzeck (BBC Third Programme) by George Buchner by in a new translation by John Holmstrom . Patrick Wymark (Woyzeck) John Sharp (Captain) (Repeated 7 May 1961, 3 March 1962). Wymark had starred in the stage production of Buchner's Danton's Death in 1959. Here he plays a poor soldier who earns extra money by taking part in medical experiments and by acting as a servant to the Captain. The Captain equates wealth and status with moral purity.
1961 Twelfth Night (LP)The Marlowe Society and Professional Players Dorothy Tutin, Derek Godfrey, Patrick Wymark as Sir Toby Belch (Argo UK). For a review of this recording see here.
1961. Hamlet (LP) Patrick Wymark as Claudius, Margaretta Scott (Gertrurde), Jeanette Sterke (Ophelia), William Devlin (Ghost), Miles Malleson (Polonius)Anthony White (Hamlet). (Argo UK) for a review see here
Saturday 13 January 1962 Afternoon Theatre: The Children of Saturn (BBC Home Service) by Lydia Ragosin. Patrick Wymark (Gapon), Laurence Payne (Rutenberg) , John Moffatt (Azef).Produced by Charles Lefeaux (Repeated Monday 15 January). The play deals with Russia's abortive 1905 revolution, instigated by the charismatic priest Father Gapon. Gapon was eventually murdered by Pinhas Rutenberg on the orders of Azef, chief of the battle organisation of the Socialist Revolutionary Party.
1962 Shakespeare at Stratford (LP) Royal Shakespeare Company Patrick Wymark as Launce (Two Gentlemen of Verona Act 3, Scene 4), Sir Toby Belch (Twelfth Night, Act 1, Scene 3) with Richard Johnson. (Argo UK)
17 December 1962 The Pitcairn People Directed by Peter Newington, written by James Cameron (World Wide Pictures/ British Petroleum). Patrick Wymark delivered the commentary, written by journalist James Cameron to this film about the small island inhabited by the half-Tahitian descendents of the Bounty mutineers. One review noted the transition from the more stentorian narration that had been the tradition in documentary films, saying the commentary was "informative but conversationally delivered by Patrick Wymark".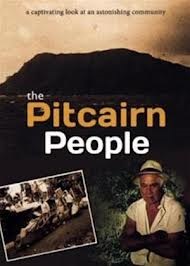 1963 The Merry Wives of Windsor (LP)Patrick Wymark as Falstaff, Geraldine McEwan, Roy Dotrice (Argo UK).
1963 All's Well That Ends Well (LP) Patrick Wymark as Parolles, Margaretta Scott, Roy Dotrice, Michael Hordern (Argo UK)
Sunday 6 January 1963 Churchill: 1: Schoolboy to Subaltern (BBC Home Service). (BBC 1)Three extracts from My Early Life by Winston S. Churchill arranged by Michael Hardwick. Read by Patrick Wymark.for more details see here Repeated Tuesday 8 January 1963
Sunday 13 January 1963 Churchill: 2: Into Action (BBC Home Service) Patrick Wymark broadcasts by permission of the Governors of the Royal Shakespeare Company (repeated Tuesday 15 January).
Sunday 20 January 1963 Churchill (BBC Home Service) Three extracts from My Early Life by Winston S. Churchill arranged by Michael Hardwick. Read by Patrick Wymark. Repeated Tuesday 22 January. For more details click here

Sunday 30 June 1963 Another Man's Poison. Patrick Wymark and Fenella Fielding open the 10th Stratford Upon Avon Poetry Festival. For more details of the event including photos please click here
Friday 9 August 1963 Adventure: Mystery on the Desert (BBC 1) Commentary written by Jacquetta Hawkes and spoken by Patrick Wymark. 30 minute film introducing the Nacza Lines cut in the stony pampa of South Peru. Tony Morrison, Mark Howell and Allan Reditt examine the markings and meet German mathematician Maria Reiche who had spent 18 years trying to uncover their meaning. (Repeated 10 Feb 1965)..
Friday 16 August 1963 Adventure: Children of the Lake (BBC 1) (BBC)In search of a lost civilisation, three young English explorers set out across one of the highest plains in the world -the Bolivian Altiplano. Beneath the brilliant peaks of the Andes they find a village where pre-Incan customs and beliefs still dominate the lives of the people. Commentary spoken by Patrick Wymark.
Monday 14 October 1963 Churchill: Thoughts and Adventures (BBC Home Service) 1 A Second Choice. Adapted by Michael Hardwick from the book by Winston Churchill. Read by Patrick Wymark. (Repeated 18 June 1965)for more details see here
Tuesday 15 October 1963, Churchill: Thoughts and Adventures (BBC Home Service) 2 First World War ' Spy ' Stories read by Patrick Wymark. (Repeated 25 June 1965)
Wednesday 16 October 1963 Churchill: Thoughts and Adventures (BBC Home Service) 3: The Battle of Sidney Street and Hobbies read by Patrick Wymark (Repeated 2 July 1965)
Thursday 17 October 1963 Churchill: Thoughts and Adventures (BBC Home Service)Painting as a Pastime. Read by Patrick Wymark. for more details see here
November 1963. Pericles, Prince of Tyre (LP) William Squire as Pericles. Prunella Scales as Marina, Margaret Rawlings as Dionyza. Patrick Wymark as Bolt (Argo UK)
Monday 11 November 1963 Adventure: The Elusive Volcano (BBC 1). Documentary about mountaineer Eric Shipton's attempt to climb Mount Burney, described as the most southerly active volcano in South America. Commentary written by Richard Wade and spoken by Patrick Wymark. .
Tuesday 10 December 1963 Mystery Playhouse: A Visitor From Down Under (BBC Home Service) ) by L. P. Hartley adapted for radio by Michael and Mollie Hardwick. With Patrick Wymark , Carlo Cura. Anne Gough Paul Holdaway and members of the BBC Drama Repertory Company. Produced by Charles Lefeaux.Mr Rumbold returns from Australia to Rossell's Hotel in London. He is lucky to get a room. "We're turning people away every day," a waiter tells him, "Why, only tonight a gentleman rang up. Said he would come round late, on the off-chance. But bless me, he'll find the birds have flown."
Friday 8 May 1964 The Detour (Third Programme) A play by Martin Walser Translator, Richard Grunbergen adapted by Barry Bermange with Patrick Wymark Sheila Allen and Cyril Shaps Produced by Martin Esslin (Repeated Sunday 24 May 1964) Patrick Wymark later appeared in a TV production of the same play.For details of the TV production see here.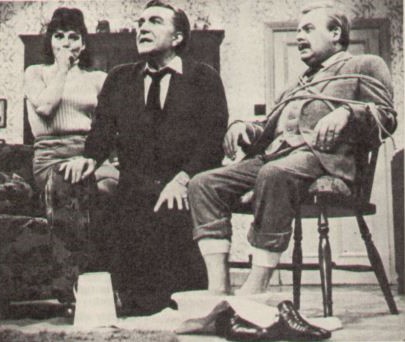 Tuesday 28 July 1964 If You Can Spare the Time (BBC Third programme). Play by Jack Russell with Patrick Wymark as the narrator. Repeated Wednesday 19 August 1964
Saturday 19 September 1964. Biggin Hill Open Day. Personal appearance promoting The Plane Makers third series and the Veetol mock-up.
29 September 1964 The Finest Hours Documentary film narrated by Orson Welles with Patrick Wymark as the voice of Churchill "for more details see here
30 November 1964 Hallmark Hall of Fame - The Other World of Winston Churchill (NBC) Documentary film narrated by Paul Schofield with Patrick Wymark as the voice of Churchill Adapted by Caryl Brahms from Painting as a Pastime by Winston Churchill for more details see here
1964 The Finest Hours (LP) Original Soundtrack Orson Welles narration, Patrick Wymark as Churchill, Music by Ron Grainer (Philips UK/Mercury US)
1964. What Passing Bell: A Commemoration in Poetry and Prose of the Fiftieth Anniversary of the first World War (LP) Patrick Wymark (reading Diary Excerpts of Earl Haig), Jill Balcon, John Stride, Michael Horden, Gary Watson (Argo UK).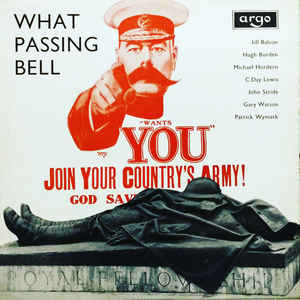 1964 Henry VI Part 2 & 3 (LP) Patrick Wymark (as Richard Plantagenet, Duke of Gloucester Crookback), Mary Morris, John Shrapnel (Argo UK) . For a review see here
1964 Richard III (LP) Patrick Wymark as Richard Plantagenet. Mary Morris, Prunella Scales, William Squire.(Argo UK). For a review see here
December 16 1964, Patrick Wymark received the Best TV Actor Award from the Guild of TV Producers at the Dorchester Hotel
31 December 1964 Daily Mail Boys And Girls Exhibition At Olympia London. Patrick Wymark and children make appearance at the exhibition (riding The Brainy Train).
1965 Living Shakespeare: Julius Caesar (LP) Patrick Wymark (Brutus), Peter Finch (Marcus Antonius), John Moffatt (Caesar). Sound Supervision by Cyril Ornadel. Musique Concrete by Desmond Leslie. Directed by Dennis Vance (Odhams Books Ltd). Recorded 1962, manufactured 1964. Released with 32 page book. Vance, a former executive at ABC, would go on to direct Wymark in several TV plays and episodes
1965. Rhyme & Rhythm: Poems and Songs for Children. Four LP's issued to tie in with a series of books for Primary School Children published by MacMillan. Patrick Wymark and others. Patrick Wymark reads : Jargon, Mr Tom Narrow, Grim and Gloomy, The Butterfly and the Kite, Psalm 23, Lord Thomas and fair Eleanor. Boating in Autumn, Van Diemens Land, Matilda, Nicolas Nye, The Donkey. (Argo UK) For more details click here
21 January 1965. Towards 2000 (Rediffusion ) 35 Years to Go Patrick Wymark introduced an episode of the documentary series looking at signposts along the way, from Shakespeare to the present, towards an unknown future. "A series that looks at the implications of the next 40 years and the probable problems we face in the year 2000, such as over population and automation used in the work place."
28 February - 28 April 1965. Son et Lumiere at Southwark Cathedral with recorded voices of Patrick Wymark, Peggy Ashcroft and Anthony Quayle.
1 March 1965 Miss England (BBC1) From the Lyceum Ballroom, London, Patrick Wymark, Des O'Connor and Julia Lockwood are among the judges (also seen on Pathe Newsreel 4 March 1965).
Saturday 17 April 1965. Patrick Wymark attended civic reception at Grimsby Town Hall to celebrate his recent best TV actor award.
Thursday 20 May 1965. Patrick Wymark appears at Hampstead Festival of the Arts.
Sunday 25 July 1965 The Persians by Aeschylus.(Third Programme) A new translation by David Rudkin with Donald Wolfit, Mary Morris, Patrick Wymark, Maurice Denham and John Justin. Produced by Richard Imison. The Times praised "Patrick Wymark's trumpet-tongued messenger." Repeated Thursday 19 August 1965, Sunday 10 July 1966.
20 August 1965 Mary Poppins Ball at the Cafe Royal, London. Patrick Wymark, David Tomlinson and Lady Hoare were the judges. chosing a British Mary Poppins to raise funds for Lady Hoare's Thalidomide appeal.
1965. Paradise Lost Book II (LP) Patrick Wymark as Mammon, William Devlin as Moloch, Michael Redgrave as Satan (Argo UK)
19 December 1965. Stars Sing Carols At Trafalgar Square For Oxfam: Fundraising event with Marianne Faithfull, Carol Ann Ford, Nicholas Parsons, Patrick Wymark, Lynda Baron, Johnny Briggs
28 December 1965. Patrick Wymark and family make appearance at Daily Mail Schoolboys and Girls Exhibition at Olympia
22 March 1966 Patrick Wymark appears at Daily Mail Ideal Home Exhibition At Olympia
Monday 28 March 1966. Woman's Hour (BBC Home Service). Patrick Wymark reads the first of nine instalments of Hall of Mirrors by John Rowan Wilson (daily).
3 April 1966 Patrick Wymark appears at Royal Festival Hall giving readings in between the seven movements of Haydn's Seven Last Words of the Saviour on the Cross.
Tuesday 17 May 1966 The Nosebag (BBC Home Service). A new production of Louis MacNeice's 1944 dramatisation of an old Russian folk tale with Patrick Wymark as the Old Russian Soldier. Music specially composed for this production by Humphrey Searle. Produced by Francis Dillon.
Saturday 11 June 1966Michelangelo, The Divine (BBC 1). Written and adapted by Chrisopher Burstall from N.B.C Films made by Tom Priestley and Lou Hazam. The words of Michelangelo are spoken by Patrick Wymark and the opinions of his contemporaries spoken by Raymond Huntley , Cyril Luckham , Kenneth Farrington and Prunella Scales. Repeated Sunday 30 April 1967.
27 December 1966. Patrick Wymark makes appearance at Daily Mail Schoolboys and Girls Exhibition, with daughter Jane and sons Tristram and Dominic, riding bikes on Cycling Proficiency display.
1967 Poetry and Song Volume 1 (LP) Patrick Wymark reads Passing Tien Men by Po Chu-I, A Minor Bird by Robert Frost, Night Mail by W.H. Auden, Henry King by Hillaire Belloc, The Giraffe by Geoffrey Dreamer. (Other artists include Richard Johnson, William Squire, Peggy Seeger).(Argo UK)
Sunday 29 January 1967. Italy, My Italy Haymarket Theatre, London. Charity Show in aid of the Italian Art and Archives Rescue Fund. Among many stars, Patrick Wymark delivered Launce's address to his dog Crab from Two Gentlemen of Verona.
1 March 1967. Patrick Wymark and Dennis Vance were announced as being part of the ultimately unsuccessful group led by Professor O.R. McGregor bidding for the Yorkshire ITV contract.
24 May 1967. Patrick Wymark spoke at the Theatre Conference held as part of the first Brighton Festival.
Sunday 11 June 1967 Week's Good Cause (BBC Radio Four) . Mental Health National Appeal by Patrick Wymark.
Monday 14 August 1967 CORIOLANUS (Third Programme) by William Shakespeare with Patrick Wymark Phyllis Neilson-Terry and Maurice Denham
Sunday 4th June 1967. Patrick Wymark opened the new church hall for St Stephens' Church, Roberts Street Grimsby (church demolished 1973 due to structural faults).
Wednesday 1 November 1967. British Legion's Haig Fund (BBC Radio Four). Patrick Wymark on the work of the fund to assist ex-servicemen -(poppies used to be inscribed 'Haig Fund' but are now rebranded as the Poppy Appeal).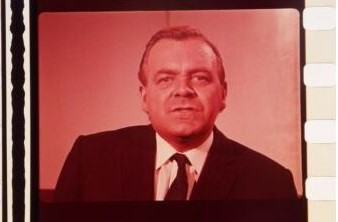 Patrick Wymark also appeared in short (10 minute) film to be shown at cinema intermissions. In For A Penny, In For A Pound showed how paper poppies were made for the Poppy Dale Appeal and showed the residential rehabilitation homes run by the British Legion.
Tuesday 23 April 1968 Omnibus: China and the Barbarians (BBC 1) Script by Professor Denis Twitchett and Leo Aylen. Narrated by Patrick Wymark. Film asking why a quarter of the world's population was cut off from the rest of the world. The programme describes the civilisation with which the West came in contact at the time of the Industrial Revolution, and tells the story of those critical years, from the failure of which we have not yet recovered.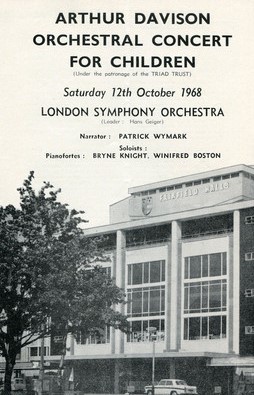 Saturday 12 October 1968 Arthur Davison Orchestral Concert for Children Patrick Wymark narrates the programme, played by the London Symphony Orechestra at the Fairfield halls, Croydon.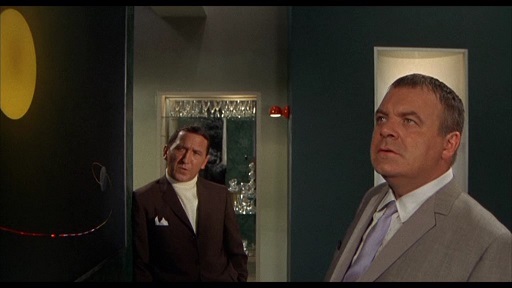 Sunday 24 November 1968. Movie-Go-Round (BBC Radio 2). Film magazine programme featuring a report from the set of Doppelganger with Patrick Wymark Ian Hendry , Sylvia and Gerry Anderson. Introduced by Peter Haigh. Written and produced by Lyn Fairhurst see here for more details about Doppelganger.
Monday 4 March 1968. Woman's Hour (BBC Radio Four). "from the North of England". Hallam Tennyson discusses the work of his poet laureate grandfather, Barbara McDonald talks to a Fisherman's Wife, Josephine Gibney of Cleethorpes. " Northern Guest of the Week; Patrick Wymark". It goes without saying that the definition of "Northern" here is "not Southern", taking in Louth (Tennyson), Grimsby and Cleethorpes, all of which were in Lincolnshire at the time of recording.
12 March 1968. Patrick and Olwen Wymark were guests at a reception for Pierre Werner, the Prime Minister of Luxembourg at 10 Downing Street held by Prime Minister Harold Wilson. Wymark had appeared in the ITV Playhouse production of The Judge earlier that evening. see here for more about The Judge.
Sunday 3 November 1968 Movie-Go-Round (BBC Radio 2). On the set of Battle of Britain with Trevor Howard, Patrick Wymark Robert Flemyng , Guy Hamilton.Introduced by Peter Haigh. Written and produced by Lyn Fairhurst see here for more about The Battle of Britain.
Saturday 18 October 1969. Verses for Saturday (BBC Radio 2) with the recorded voices of Gary Watson, Patrick Wymark, Prunella Scales and Tony Church.
Thursday 20 March 1969 Richard Burton in Profile (BBC Radio Four). Richard Burton recalls his career on stage and screen with comments from Stanley Baker, Harry Secombe, Patrick Wymark and Clifford Evans. Written and narrated by John Doran with research by Steve Swan.
Sunday 6 July 1969 Movie-Go-Round (BBC Radio 2). Visitor from Hollywood, Edward Everett Horton. Our Showcase Presentation: Where Eagles Dare starring Richard Burton, Clint Eastwood, Mary Ure, Patrick Wymark, Derren Nesbitt and Michael Hordern. Adaptation by Gordon Gow. Introduced by Peter Haigh. Written and produced by Lyn Fairhurst.
18 March 1970. Patrick Wymark appears at Daily Mail Ideal Home Exhibition.
3 September 1970. Patrick Wymark speaks at Sydney Journalist's Club Luncheon while appearing in Sleuth
Friday 16 October 1970. Patrick Wymark is guest at Miss Australia QuestPresentation Ball in Sydney prior to transfer of Sleuth to Melbourne.
1971 Rudyard Kipling (LP) Patrick Wymark reads Puck's Song: The Pirates in England, A Smugglers Song, Brown Bess: The Hyaenas, Mine Sweepers. (Argo UK).