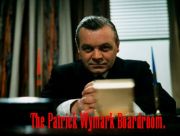 October 11 1965 Four of Hearts: This Year's Girl
Patrick Wymark and director Cyril Coke
In 1965,the London weekday ITV contractor Rediffusion kept the newly award-winning Patrick Wymark occupied with Four of Hearts an umbrella series of four plays, loosely connected by the concept of romance .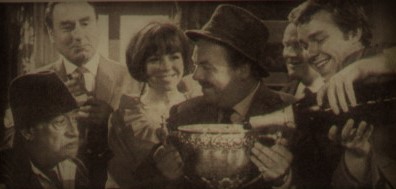 In This Year's Girl by Allan Prior, Patrick Wymark played farmer Tom Delahanty. Every year he acquires a different girlfriend in order to placate his domineering mother played bySonia Dresdel (The Fallen Idol and later the Witch in the BBC's Lizzie Dripping).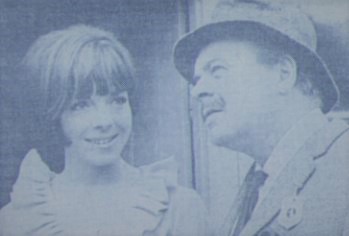 Carole Mowlam (later Fiona in Freewheelers) played London secretary Tracy, who comes to work for Delahenty, but graduallu finds herself vying to become "this year's girl". Her rival was village post office worker Ann, played by Anne Cunningham, who had appeared in This Sporting Life and also played Elsie Tanner's daughter, Linda Cheveski in Coronation Street. Tom Delahanty's real obsession is his herd of pride Herefordshire bulls, and director Cyril Coke took his cast on location to Benington Park Farm in Benington, Hertfordshire for three days to get the appropriate atmosphere. Coke had been working with the Jersey and Herefordshire bull societies to try and find a location that gave him the visuals he wanted but had drawn a blank. Then, someone at Rediffusion told him that his brother owned a farm near Stevenage and when Coke saw it, the farm turned out to be just what he was looking for.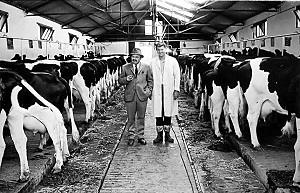 Hans, who was living on the farm at the time the play was filmed, recalls that Patrick Wymark and the bull "didn't get on. So the scene where the bull was loaded in the back of the lorry showed my father leading the bull." According to publicity for the play, Carole Mowlam was also wary of the bull. "Sometimes it was only about an inch away from me, and I was a little bit frightened.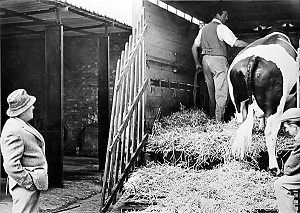 .

Hans also recalls that, "Delahanty visited one of the local pubs, The Cricketers (now The Lordship Arms ), where he accepted a bet to carry a sack of grain from that pub to one in a neighbouring village, The Gate in Whempstead. There were scenes of him staggering through the lanes carrying the sack, soaked in sweat."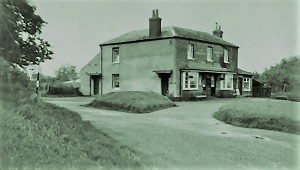 Four years later, Cyril Coke returned to Bennington Park Farm and the surrounding fields when he used it as a location in "One More River to Cross", the fifth episode of the LWT series Manhunt produced by Rex Firkin.As Hans notes, this provides a visual record of the farm as it was at the time, even though some of the outbuildings have now been demolished.
Many thanks to Hans for his memories and the photos which were sent to the farm workers as a 'thank you' by Rediffusion.