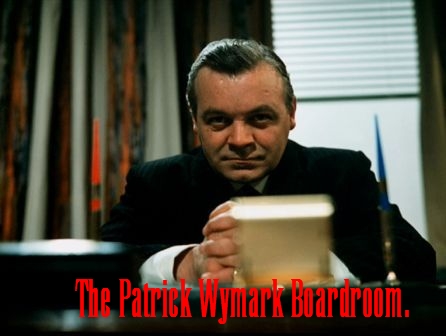 Youth Is Wasted On The Young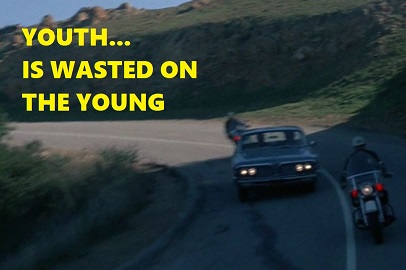 Gerry Anderson's movie Doppelganger was influenced by The Power Game to the extent of casting Patrick Wymark as a 21st Century John Wilder. The next logical move was to follow-up with a movie written by Wilfred Greatorex – script editor of The Plane Makers and The Power Game. Youth Is Wasted On The Young never made it past the script stage but offers a fascinating insight into the route Gerry Anderson's movie career might have taken.
Police outriders flank a Rolls Royce convertible as a convoy speeds down the highway. It sounds like the opening sequence of "Identified" the introductory episode of UFO but it's actually the title sequence in the first draft of Youth Is Wasted On The Young an original screenplay by Wilfred Greatorex from an idea by Gerry Anderson.
Completed on June 26 1969, the first and only draft identifies the passenger of the Rolls as Marshal Gargano, the 78-year old dictator of a South American state. The year is 1987, and Gargano speeds to the airport to welcome the Secretary-General of the United Nations as he disembarks from Concorde Mark IX.
In the kitchen-dinette of his home, 38-year old engineer Paul Cavour eats breakfast as the "wall-TV news" shows Gargano being thanked, "for his work for World Peace." Elly, his "blonde, elegant " 32 year old wife cynically heckles the TV as she prepares breakfast for their children.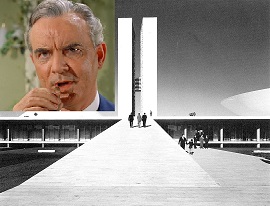 Marshal Gargano, ruthless dictator of the futuristic South American state.
Cavour travels into the capital city for what he thinks is a business meeting. But when he arrives at the plush office block, his host Renzo tells him that he has passed rigorous vetting to beat 1000 competitors for a job. Cavour is bewildered – he has not applied for a job. His host explains the vetting process, showing him hours of surveillance footage. Cavour having lunch with his secretary, Elly meeting up with her brother (at first they thought she was having an affair but were relieved to find that the Cavours lead blameless lives).
A proud but worn-down old man is ushered into the office. Renzo asks the old man if they have ever met before. The old man peers at his questioner and says no. The host thrusts a knife into the old man's chest. As Cavour watches the old man crumple to the floor, his host advises that, "there is a case for Euthanasia." He warns Cavour to say nothing.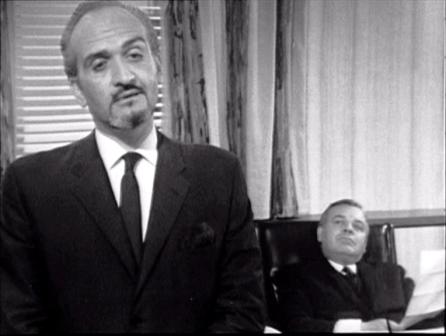 Roger Delgado, here with Patrick Wymark in The Power Game episode The Front Men, would have been a charming but chilling Renzo.
Cavour returns home, aware that every move is being watched and the safety of his family depends on his compliance. Gradually, he is admitted to the leading social circles and is brainwashed into becoming an acolyte of Gargano, making a televised speech in support of the Marshal which wins fanatical applause. Now a 'poster boy' of the Government, Cavour is driving his own car when he is forced off the road. Cavour is taken to a private hospital, where Gargano's surgeon Ian Wallace goes to work. Surrounded by computers, the surgical team divide their efforts between two operating tables and two patients. "There's a ritual about the operations. They have clearly been rehearsed time and again. There are no histrionics: only work to a plan and a sense of scientific occasion." The operation reaches a climax, as Wallace and his team concentrate on just one patient. The other body is abandoned.
Elly is told that Cavour was dreadfully injured in the car accident, but under Wallace's care he is gradually returned to health. He regains his strength, is named as Gargano's successor and begins indulging in manic recreational activity, playing tennis, swimming, revelling in the strength of his youthful body.
Gradually, Elly realises the truth. Wallace has carried out a brain transplant. She rejects Cavour's advances, telling him "I'm not your wife. My husband's dead. Mutilated in that abattoir you call a hospital."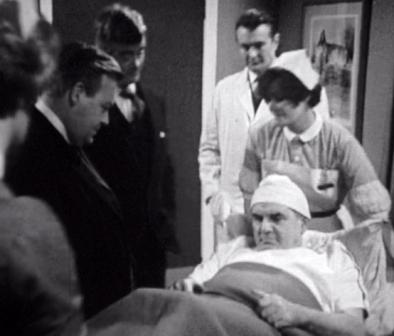 On 4th March 1969, ATV transmitted Wilfred Greatorex's Power Game episode, The Heart Market. Made less than two years after the WORLD'S first heart transplant had been carried out, it showed one of the leading characters Caswell Bligh (Clifford Evans) felled by a heart attack. With suitable donors of compatible hearts in short supply, the episode explored the way in which men of power and influence could try to jump the queue for new hearts.
Days before The Heart Market was transmitted, Gerry Anderson announced that he would be developing Youth Is Wasted On The Young with Wilfred Greatorex. Set once again in the near future of 1987, the screenplay takes the dystopian approach that Greatorex would late explore in the BBC TV series 1990, and blends it with the high-tech effects of Gerry Anderson. Marshal Gargano travels in a luxurious Vertical Take Off and Landing jet which features in several significant scenes. He also employs an automated execution machine which makes firing squads redundant and ensures that enemies of the state can be eliminated on a production-line basis.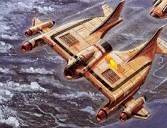 Derek Meddings' futuristic designs would have been woven into the grittily realistic screenplay
The screenplay identifies the capital city as Brasilia, although it is not clear if the film would be set in Brazil (which in 1968 was under military dictatorship) or if Gerry Anderson was just hoping to exploit Oscar Niemeyer's then futuristic designs as a backdrop for an anonymous South American state(perhaps with location filming in Portugal and interiors at Pinewood).
The location in a dictatorship is fundamental to the plot. While the idea of brain transplants wasn't new, either in science fiction or movies, Anderson and Greatorex took a journalistic approache, building on the most recent developments. Heart transplants were incredibly expensive in terms of surgical staff and procedure, and also depended on the exceedingly rare resource of a healthy and compatible heart becoming available. Concerns had already been raised that countries where life was cheap might furnish an unwilling source of raw material. ( By coincidence the first episode of ATV's Strange Report (: Report 4407: Heart – No Choice for the Donor) filmed July 1968, but only transmitted January 1970, starred Barbara Murray as the wife of surgeon Robert Hardy, who was being coerced into carrying out a heart transplant on the head of a Mediterranean state, with unwilling donors.)
The transplant of a living brain would have additional costs and complications. Quite apart from the medical complexities, Gargano was actually looking for a young donor body to allow his brain to continue. That would mean to some extent taking on a new identity.
The idea of identity theft had been explored in TV episodes such as The Outer Limits ( The Hundred Days of the Dragon) and the 1967 movie The Sorcerors (where Boris Karloff and Catherine Lacey use a machine to leech the thoughts and feelings of young Ian Ogilvy), but again Anderson and Greatorex were trying something different. Cavour's body is acceptable, but his identity must be gradually changed so that it will be credible when Gargano finally takes possession of his new suit of clothes.
The choice of a futuristic South America as the setting, kills two birds with one stone. It allows for an exotic backdrop attractive to Hollywood finance and provides a credible dystopian setting for a state where bodies can be harvested.
Assuming that Anderson would have pitched the movie to Universal as a follow-up to Doppelganger, it's intriguing to consider who might have starred in the movie. The choice of the name Ian Wallace for Gargano's surgeon makes it tempting to assume that Anderson would have offered the role to Ian Hendry. The role of the conflicted surgeon would have suited Hendry well – especially when he has to confront Gargano's henchmen after they eliminate the rest of the surgical team following the successful operation. As for the South American dictator, it's possible that Anderson might have wanted to retain the Power Game connection by casting Clifford Evans.
Cavour is described as being "handsome in a Roman way", which leaves the role open for any number of American leading men. However, if Universal had financed the project Tony Franciosa from Universal's TV series The Name of The Game might have lent depth to the role. The actor playing Cavour would need to depict his early paranoia has he returns home realising that every room in his house is bugged. He would have to develop into brainwashed enthusiasm and then change gear to portray Gargano within Cavour's body. Although Greatorex writes Gargano as ruthless, he allows him a moment of sympathy, admitting that, "I sign death warrants, but a lot more died before I took over."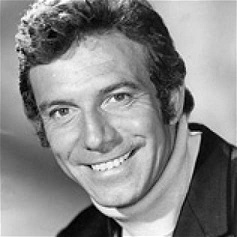 Would Tony Franciosa have starred as Cavour?
As for Elly Cavour, this is a particularly strong female role. The storyline has elements of gothic horror (or outre movies like The Alligator People and I Married A Monster From Outer Space) as Elly becomes disturbed by the change in her husband and horrified by the realisation that the mind inside his body belongs to someone else. Her role gradually expands as she tries to find an escape route for her children. There were any number of talented young British or American actresses who could have played the role. But let's be realistic, this was the British Film Industry circa 1969 and the role would probably have ended up going to some poor European actress dubbed by Nikki van der Zyl.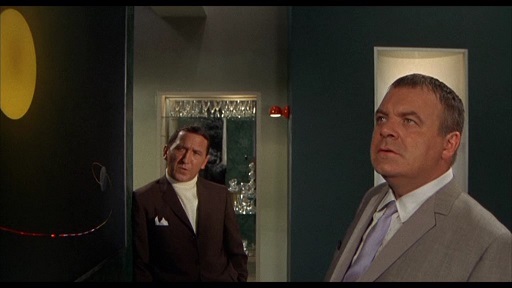 George Sewell may have suited the role of army officer Pieter Valde.
The final major character in the movie is Pieter Valde. He is a principled army officer, who attempts to oppose Gargano but has to go underground after 23 of his fellow officers are massacred. He provides a potential escape route for Elly and again it's tempting to think that Gerry Anderson would have preserved the Power Game Doppelganger link by casting George Sewell in the role. Of course, much would have depended on whoever got appointed to the director's chair.
Gerry Anderson was already filming the first episode of UFO when Wilfred Greatorex completed this draft. The project is said to have failed because of script problems. It's difficult to say just what those problems were. It's possible that the storyline was considered to be a bit of a downer. But then perhaps no more than films that did get made like Beneath The Planet of the Apes, Soylent Green and The Omega Man.
It's arguable that a studio may have thought Youth difficult to sell – is it science fiction, is it a totalitarian thriller, is it a horror movie? In truth it has aspects of all three – in some ways it's a David Cronenberg movie ahead of its time. With so much of Gerry Anderson's back catalogue being resurrected, perhaps the time will come when the screenplay is revived and YOUTH is no longer wasted.
You can read more about UFO and the Power Game's influence on Gerry Anderson here

thanks to Victoria Bennett of the British Film Institute Special Collections for her help in viewing Wilfred Greatorex's screenplay.