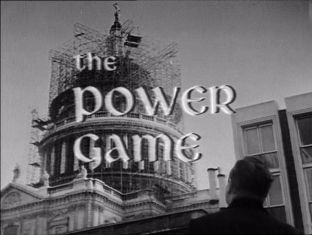 Monday 14 January 1969
"Special Envoy: The Big Nothing" Writer Roy Clarke Director Cyril Coke.
"I'm afraid your overdeveloped sense of individualism has affected others in the Department. I had a very unpleasant scene with Dowling." Lord Bligh.
Muito De Nada – "The Big Nothing" – is a barren stretch of land in South America. Although there are minerals below the surface, the gamble is whether they are valuable enough to justify building the roads and infrastructure needed to extract it. Helen Ferguson, a PR consultant for the new president of Andarovia tries to persuade Caswell Bligh that Britain should invest in "the Big Nothing". Bligh rejects the idea, but Sir John Wilder tries to raise the private funding that will be needed to set the plan in motion. When Mrs Ferguson questions whether he should go against the decision of his Minister, Wilder replies:"Do you want protocol or action?"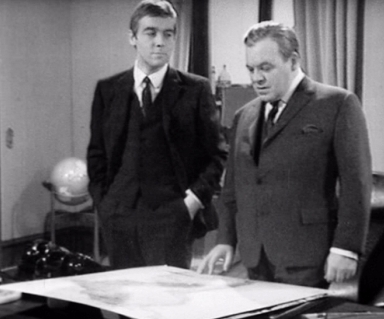 Lincoln Dowling (Michael Jayston) briefs Sir John Wilder (Patrick Wymark) on "The Big Nothing"
Roy Clarke is today best known for long-running BBC comedies, "Still Open All Hours", "Keeping Up Appearances" and "Last Of The Summer Wine" but in1969 he was at the start of his career. Clarke had written "The Dispossessed", the 5 April1968 episode of "The Troubleshooters" featuring Ronald Fraser as "Wallace Nicholls", a washed-up relic of the British Empire. ATV producer Dennis Vance would later develop this format into "The Misfit", a TV series which would win Clarke his first award. Clarke would also script several episodes of ATV's darkly humourous spy thriller "Spyder's Web". Here though, Roy Clarke is tasked with writing the second episode in the new format of "The Power Game".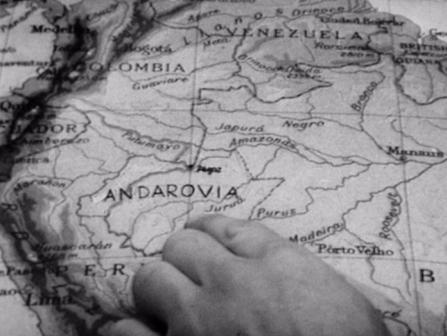 Viewers knew Wilder as a risk-taker, chasing success while more cautious heads urge restraint. But the question was still how this would work against the background of the Foreign Service. "Your job is to stimulate trade, not hinder it." Wilder tells Caswell Bligh (Clifford Evans) , who has now inherited the the more prudent mantle of Sir Gordon Revidge from earlier series. When Bligh asks Deputy Under Secretary Jason Fowler (Richard Hurndall) to provide a counter-argument to Wilder's Andarovian scheme, Fowler replies that "the prospect for counter-revolution (in Anderovia) is eminently rosy." When Wilder invites a bunch of business executives to dinner to discuss investing in the project, he is disillusioned when he discovers they are as risk-averse as Bligh. "They moan about Government interference, but give them a chance to go it on their own and they start trembling."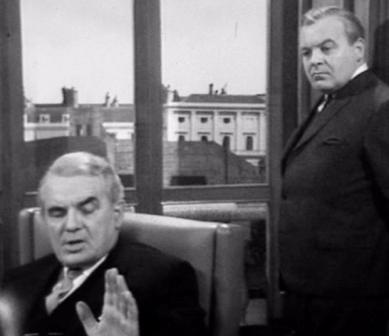 Caswell Bligh (Clifford Evans) gives Wilder the first of several final decisions

Determined to push the scheme forward, Wilder tells Pamela that "I need some money – all that I can raise – plus yours." At first Wilder appears reckless. His private secretary Lincoln Dowling (Michael Jayston) warns him that, "You and your wife can't dabble for private gain in something you're promoting as a public servant." And when Wilder tells Mrs Ferguson to leak the story to the press, Dowling feels compelled to report Wilder's financial interest. "What's the going rate now, still thirty pieces of silver?" Wilder demands. "That was for God," Dowling replies, "Are you really that ambitious?"

But Wilder's apparent recklessness is revealed as a cunning strategy – the "clean hands" of public service compelling Wilder to promote the scheme without risking his own cash. Mrs Ferguson later congratulates him on having manoeuvred himself out of investing his own money .

Bligh too finds that Government intentions are harder to read than he imagined. After pressuring Wilder to "abandon your financial interest and reconsider your position on the entire scheme," Bligh finds that the Foreign Secretary (Geoffrey Chater) is equivocal. He was concerned about Wilder's methods but would hate to see the British taxpayer lose out to France or Germany in exploiting Andarovia."As long as you're certain that Wilder will behave himself, I think we can proceed." P>

Many of the best scenes in this episode are those in which Clarke develops the relationship between Lincoln Dowling and Pamela Wilder. When Wilder takes Mrs Ferguson on a trip to Zurich and leaves Dowling behind, Pamela questions whether Private Secretary's usually travel with their Ambassador. While confirming that is the usual procedure, Dowling mischievously states that he's sure it's nothing to do with the Ferguson woman. "I'm not one of your bored Embassy wives" Pamela reassures him, to which Dowling coolly replies, "I hear you're very experienced at being left on your own.".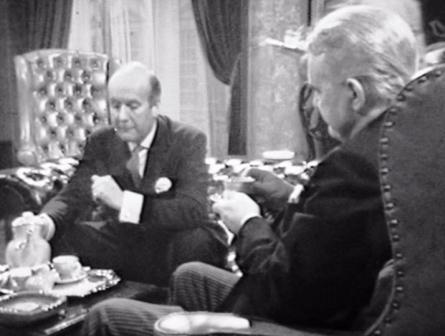 Foreign Secretary Arthur Stilton (Geoffrey Chater) warns Lord Bligh he may be looking for a sacrificial lamb if things go wrong.
Joanna Rigby, playing Helen Ferguson, had recently appeared as Honoria Glossop in the BBC series "The World of Wooster". The character of Helen Ferguson is confident, astute and flirtatious - very similar to Laura Challis in "The Plane Makers". Had they originally intended to bring Wendy Gifford back or were they just trying to create a similar character? Where Challis had warned Wilder that she made it a rule never to have an affair with a man in the same industry as her ("The Salesmen"), Mrs Ferguson is affronted that Wilder turned down her offer of sex. Wilder apologises, "I just can't afford the time…Affairs are very easy to start but hell to end. All that covering up of tracks…"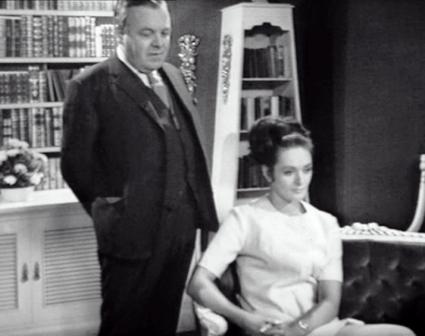 There seems to be a clear intention to hammer home the globe-trotting nature of the show with an early scene in which Wilder and Dowling fly to Kennedy Airport in New York for a breakfast meeting with Geologist Alan Harwood (William Job). Made at a time when Britons such as David Frost were making a fetish of the Transatlantic lifestyle we get a glimpse of Patrick Wymark's impishness when Harwood orders "ham and eggs sunny side up" at the airport restaurant. "That's what I call integration," Wymark says – "Sunny Side Up."

Harwood works for an American mining firm which surveyed "The Big Nothing" before the Americans abandoned the project for political reasons. Wilder wants to see the report to prove to himself the rewards are there.

Wilder's meeting with Harwood picks up long-running concerns about "the brain drain" and that state of British management first raised in "The Plane Makers".

In "A Question of Priorities". for instance, Wilder fought to prevent designer Jimmy Rossiter (James Kerry) joining an American firm. Wilder unsuccessfully tried to use Rossiter's wife to persuade him to stay in Britain and ends up telling Don Henderson that, "I give that marriage two years." Like Rossiter, Alan Harwood says he's joined the Americans for the career prospects, criticising the geriatric British management style.

Harwood specifically mentions Wilder trying to persuade him to stay with British Imperial Mining "four years ago, when you were still a Mister". So they could conceivably be talking about the period between "The Plane Makers" and "The Power Game" when Wilder was on the board of Elberdson's merchant bank.

However, the arguments Wilder uses are very similar to those employed against Jimmy Rossiter. "Tell me – does your wife do eggs 'sunny side up' or just fried eggs with the yolk on top?" Wilder has learned from Don Henderson told him that Harwood's wife is "pining for Bond Street and your local mews pub". And while Harwood professes to abhor all that British privilege he has his son's names down on a waiting list for two of the top British public schools.

When Wilder asks how much he earns, Harwood glances at Dowling suspiciously. Wilder assures him, "Lincoln's a Civil Servant earning 52 quid a week for – among other attributes – total discretion." (Dowling's pay would be £770 a week today, while Harwood's $42,000 a year would be around $270,000 in 2016). Wilder intimates that he can get a British firm to offer Harwood a salary that will top what the Americans are paying him.

As Harwood considers the temptations offered to him, Wilder impishly glances at his breakfast plate and reminds him, "You're leaving your sunny side up."

The second episode of the series was always going to be a challenging one because the audience was still having to adjust to the new situation. Old favourite Jack Watling is absent from this episode (mentioned in name only) and while this gives more room to develop the relationship between Pamela Wilder and Lincoln Dowling, it removed another familiar anchor for the audience. The idea of Caswell Bligh being both a Lord and Wilder's Minister must have seemed disconcerting and Clarke shows Bligh himself struggling to keep his balance in the new political situation. The final sneaky twist by Wilder is one which must have seemed particularly controversial in 1969 (Wilder has got the financing from Apartheid-era South Africa). It's unfortunate that Helen Ferguson would not return in future episodes, although Roy Clarke would soon get an opportunity to develop more ballsy women in "Spyder's Web".

This is a fast-moving episode with several changes of locale and a conversation between Bligh and Wilder spread (movie-style) over unrelated scenes such as Bligh and Wilder shaking hands with a line of foreign dignatories. It sometimes becomes hard to follow just where the plot is going – perhaps because the ultimate prize is an ambiguous right to prospect for minerals. However, this second episode of the series does succeed in further defining the relationships between the characters in this new situation.